Choosing a daycare is a decision that many parents are faced with.
A quick google search will present you with many choices when choosing a daycare.  I think that knowing what's important to you is what will help you find a good match. If you aren't sure what's important to you right now, thinking about and asking questions can help.
Some families  with love one daycare center while other families will not.  It is something that is very personal.  Some people will want a nanny where others will want a center based program.  There are so many factors that come into play when choosing a daycare and everyone has different priorities.
First, you want to know what your options are.
Nanny
A nanny is a person you hire to come into your home to care for your child(ren) full time.  This will be individual care.  There are agencies that can help you find nannies, these typically charge a fee as they have done some legwork for you such as doing background checks.
Nanny share
This is when you share a nanny with another family.  For example, you have a friend in town and you both have a one year old, together you hire a nanny to watch both of your children.
Au Pair
An au pair is a young adult from another country that comes and lives with your family to take care of your children.  Au pairs can also do other housework as part of their role.  They work up to 45 hours a week in exchange for room and board, though there are other fees associated with au pairs.  You typically find an au pair through an agency, which charges its own fees.  Your family gets to be exposed to a different culture and your children may even being to learn a new language.
Home daycare
This is a childcare that takes place in someone's home.  They may or may not be licensed by the state, this is something you would want to look in to.  Usually home daycares have mixed age groups and more flexibility in their daily routines.
Center based daycare
This is a childcare that takes place at a center, similar to the idea of a school.  These should be licensed by the state.  The children are placed into different classrooms based on their age.  Each class usually has a set daily schedule with activities based on the children's ages.  These can be chain centers or small individual centers.
For me, I didn't want to go the nanny or au pair route.  For my one child, it was looking like it would be more expensive than other options.
We also weren't comfortable with the idea of someone we didn't know coming into our home.  I know a lot of people choose to have a nanny and it works out great, I even worked as a nanny when I was younger.  It just wasn't what was right for us at the time.  So we looked into different daycares.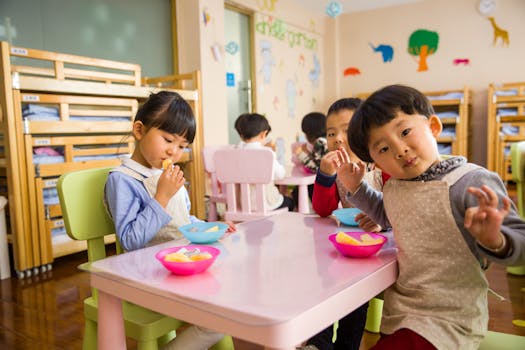 Here's a list of questions to ask when looking at daycares:
Are they licensed?
This may not matter to everyone.  Maybe you know and trust someone who does informal daycare at their house, that is great.  For me it was important that our childcare be licensed.  The state has certain rules and regulations that they must follow, for example they have to follow certain ratios for how many children they can have based on the number of adults.  It also generally means that the environment has been inspected for safety.  I like the accountability of having a license.
What is their philosophy?
Most centers will have a philosophy of some sort that they follow.  For me, I didn't want childcare with an academic focus, but rather a play based approach so this was something I made sure to check in on.  Some places may be religion based, so this can be something to consider as well.
What is their discipline policy?
This may not seem important when babies are little, but they will grow and test out behaviors, so it is important to find out how your childcare provider will respond in terms of discipline.  We wanted someone who had a discipline policy that mirrored our beliefs on discipline as parents.  Centers should have a written discipline policy that you can look at.
How many children attend?
It is good to know how many kids will be in your child's class.  For my daughter, we found a smaller daycare with fewer children was better.  Since she is a preemie she gets sick more easily, so the less exposure the better.
Can you come visit during the day? 
I asked about this because I was planning on breastfeeding and wanted to be able to come by to nurse, though I ended up having to exclusively pump so this did not end up being important.  It was interesting though, one place we looked at had a little room where moms could come and nurse their baby where another place  said that they would make something work but they found it disruptive and preferred that parents not visit during the day.  I can see how visits could be disruptive depending on the child, but I found this to be something to think about.
What do they charge?
This is important for obvious reasons.  Find out if they have any discounts if you pay in advance or if they offer discounted rates if you have more than one child.  Childcare is expensive, I don't think there is any way around that.
What do they provide?
Will they be providing any snacks and what kind?  Some places will even provide meals.  Some child cares don't provide any extras where others may offer things like diapers and wipes.
What are their hours and availability?
Another obvious one.  You want to make sure their schedule and openings will work for you.  I loved a childcare but they only had a spot three days a week, which wasn't going to work for us.  Before touring and falling in love with a place I would try to find out if they will work with your schedule.
How will they communicate? 
There's lots of different ways a childcare can communicate with parents.  Some places have cameras where you can check in from their website and actually see what is going on.  This wasn't important to me because they usually don't have sound, so you miss that part of things.
Will they send weekly written reports? Daily reports? What if you have questions, how would they want you to contact them?  Will they send you pictures during the day?
Where we are now sends a daily report which includes information about what she ate, when and how much she slept, her diaper changes, and a few sentences about what she did.  I love this.  It is a home daycare so they will text me if my daughter is sick and I can text them if I have a question or forgot to tell them something.
What is their schedule?
Do the kids have a set schedule for eating and sleeping?  With my preemie daughter it was important to me that her childcare was responsive to her needs rather than trying to impose a schedule onto her as we struggled with eating and sleeping for a long time.  I knew trying to get her to fit someone else's schedule just would not work for her.
What is their sick policy? 
I think most parents care about this, but this is especially important when you have a preemie.  What do they do if a child gets sick in the middle of the day, and what precautions are in place to keep other kids from getting sick?
Other tips to consider:
Location  –  Is it near your home or your work?  Who will do pick up and drop off?  How easy is it to get to if your child is sick and has to go home in the middle of the day.
Take a tour – I definitely recommend going and taking a tour and meeting the people that would be caring for your child.  If you don't get a good feeling, then I say to trust your instincts.
Talk to other parents – Now I know I said every family is different in what they are looking for, but I still found it helpful to talk to other parents.  You can listen to what they share and keep it in mind when you go to check it out for yourself.  The childcare we picked got lots of positive reviews from other people that we know have similar parenting values to us, so this was helpful.
Be open minded – Sometimes, you may find that what you end up loving isn't what you expected.
You may also need to try a couple of options before finding what works best for you. We started at one childcare and switched to another as the location wasn't working out.
I initially wanted our childcare to be near my work, but found that this put pressure on me being the only one doing drop off and pick up. We ended up switching to something closer to our home so that we could share drop off and pickup and found that this worked better for us.
These are all the questions I asked and tips that I used when finding daycare for my daughter.  If you are looking for daycare for the first time, I wish you the best of luck.
Do you have any other suggestions or thoughts to add? Anything I missed? Leave a comment below!
If you liked this post you might like:
Time Management Tips That Every Parent Needs
How Yoga Helps Me be a Better Parent